A world without digital technology is hardly conceivable today. What would we do in everyday life without a tablet, smartphone & Co.? In particular, the smartphone is developing more and more into an all-in-one device.
According to statistics, the smartphone displaces not only electronic devices such as the mp3 player and the navigation device, but the sales of digital cameras also went down between by about 50% between 2007 and 2014. Even professionals have firmly integrated the smartphone in their everyday life.
You will be surprised by the quality of images taken from your smartphone with our simple tips and tricks that will help you use the camera on your smartphone.
Smartphone photography for e-commerce
Smartphone photography is on everyone's lips. And it is gradually, but unsurprisingly, featuring in e-commerce too.
Before considering spending on a digital single-lens reflex (DSLR) camera for product photography, why not consider using the high-resolution camera of your smartphone which you carry everywhere? That may sound crazy and a bit unprofessional, but, hey, it's the 21st century – that isn't the case anymore! With the advancement in smartphone technology, creating professional product images with your high-quality smartphone's camera is now absolutely feasible.
So, what are the advantages and disadvantages of taking professional photographs with your smartphone and what can we do to get even more out of our pictures?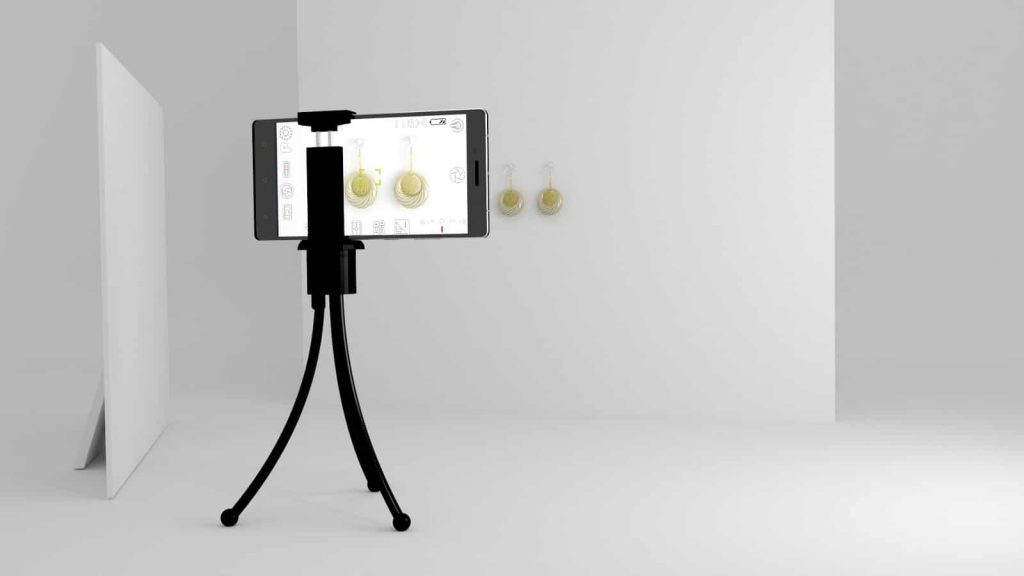 Smartphone photography: The pros and cons
Practical benefits: Apart from being budget-friendly, this option offers convenience and portability, while not sacrificing on the quality of your images. The compact design of smartphones allows us to carry them wherever we go: they are light, flat and fit in any pocket. There are therefore hardly any limits to photography.
Easy sharing on e-commerce sites and social networks: Sharing your images on product sites and on social networks has never been as easy as it is today. With this option, your target customers, friends, relatives, and acquaintances can always stay in the picture.
Creativity: The range of versatile apps for editing your own pictures seems to be endless. These are usually available for free or for very little money. This not only enables the user to work with the classic image processing from their smartphone, but also filters the unwanted elements from your product images.
Cost factor: If it should not be just the iPhone of the latest generation, then good smartphones are already available from about $200. Conversely, you have to put a considerable amount of money on the table for a passable compact camera.
Image quality: The quality of smartphone-captured photos has its pros and cons. For example, where the resolution is absolutely sufficient for most purposes, it fails because of printing in large format. So the photographer should think carefully about the purpose of his pictures and in some cases, he should prefer to use his conventional camera. In addition, digital offers more extensive options.
Digital zoom and megapixels: Since most devices are equipped with digital zoom only, zooming in on the image will result in a significant loss of image quality. In other words, the results are very pixelated. In addition, most smartphones are not yet equipped with enough megapixels. Here, digital cameras are still in the lead.
Macro Photography: Similar to close-ups, smartphone photographs are not yet possible in the sense of macro photography. It would be useful to find out where the focus range of your device begins.
Tips for taking quality photography with a smartphone
Are you fully familiar with the functions of your camera app? If not, familiarize yourself with them, because the standard features can be quite substantial: In addition to the self-timer and filter menu, most applications have automatic face detection, various image formats, video, and slow motion, HDR and more. Just play around for a while – you'll be surprised what your smartphone camera can do!
Determine the focus itself
This gives you control over the different levels of sharpness and image composition. Simply set the automatic focusing of your smartphone. If you now touch a certain point in your picture, the camera will focus on the desired area of the picture.
Actively design the screen layout
First, think about what you want to photograph and look around before you hit the trigger. Ask yourself the following questions: What else is happening in the environment of my desired subject? Is the sun shining or are there great clouds in the sky? Is there a way to give my object a new perspective?
Are there recurring lines? Where is the sun? Are there interesting shadows? Shadowplay is a great way to get very interesting pictures.
Contouring is a central theme for image composition. Are there lines that lead into an image? Are there symmetries and repeating patterns? Are there several image layers that add depth to the image?
Include these things in your picture, because that creates tension and makes a really good picture more interesting!
Play around, what does your subject look like when you shoot it from the top, bottom, left or right? Squat, stand on a chair and give your subject a little room.
Ensure the right exposure
Do not rely on the automatic exposure correction of your smartphone, but rather ensure the correct white balance. Simply tap another point on the display of your device. If this does not work, you must deactivate the automatic setting in the settings. By the way: if you are already there, you can also switch off the flash directly. Lightning often causes hopeless overexposure – so use it only when you really need it.
Use the High Dynamic Range (HDR)
The High Dynamic Range, also known as HDR, is responsible for contrasting your images. A feature that is likely to be on any modern smartphone and it turns out to be very useful. Thus, particularly large brightness differences are reproduced in an extremely detailed manner.
All modern smartphones have an HDR function, but many people are still unaware of how useful it is. The HDR mode takes three pictures at different exposures and highlights the best parts of each photo. Your phone will then do all the work for you: it will create a standard and an HDR photo. The result should be more like what the eyes see than what the camera sees.
Use touch-up apps for more creativity
You will not get a perfect rendering of all your photos so feel free to take advantage of the various mobile phone photo editing applications. Instagram, Photo, Candy Cam & Co.: take advantage of the power of your App Store. Get creative with filters and beautify your product images.
Practical accessories for smartphone photography
As already mentioned, real macro shots are not possible with the smartphone itself. It looks the same with the wide angle and the fisheye. However, if you do not want to do without these options, various manufacturers now have practical slip-on lenses available for them.
Sometimes the image stabilizer helps
With an image stabilizer, your image may appear less blurry. However, with some cameras, the image stabilizer is just an electronic trick that does not bring that much. In addition, you may not be able to adjust an electronic stabilizer if you previously set certain other settings in the camera control. Some Nokia phones, on the other hand, have a built-in optical stabilizer – like large cameras or interchangeable lenses. Then your shots will appear less shaky at long shutter speeds (even videos are better with image stabilizer).
Clean up your lens
Before you even take photos with your smartphone, wipe your lens. Dust and dirt deposited on it will give a grainy result to your product photos.
Choose high resolution
The higher the resolution of your photograph, the higher the quality will turn out to be. Precision will bring your smartphone photos a much more professional result. However, you should note that the bigger your files are, the more difficult they are to store.
Familiarize yourself with the software
You will probably be surprised to discover everything you can do with the camera of your smartphone. All the best smartphone cameras usually have the panorama, HDR, and bokeh features, as well as basics like video, flash, and auto mode. Knowing where these options are will allow you to not waste time searching your settings and not miss out on something.
Do not move while shooting
It is important to follow the same basic rules of digital camera photography when using the camera on your smartphone. Thus, it is imperative not to move in order to take the best shot. You can put your phone on a rigid object such as a tree or wall to create an improvised tripod.
Trim, do not zoom
Zooming on the camera on your smartphone will decrease the quality of your images. The best smartphone cameras often have a resolution of 8 megapixels or more, which means that you can trim greatly while maintaining excellent photo quality.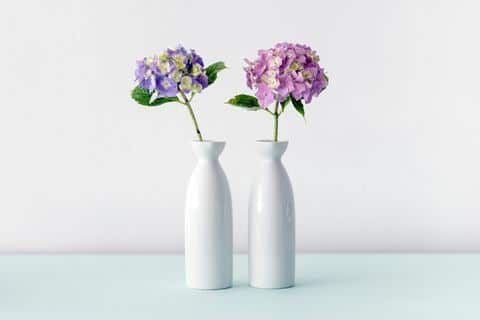 How to take quality photos considering the weather
Smartphone photos are better when taken in the sun but smartphone lenses and sensors are not yet as powerful as the full-blown traditional cameras.
Here are our tips for taking pictures when the weather is nice:
Avoid very harsh contrasts such as deep shadows and bright skies in a single image.
The sun should not shine directly into the cell phone lens – this disfigures cell phone pictures significantly.
In-Camera Control, test different settings for natural or vivid colors such as landscape, portrait, or white balance for different light sources.
Capture objects that look good with the wide-angle lens of a camera phone, such as expansive landscapes or cityscapes. A bird on the power pole always seems too small in the phone photo.
5 best smartphones for photography 2019
Within the past few years, smartphones have continued to evolve – so have the accompanying cameras. Thanks to competition between the big tech companies such as Apple Inc., Samsung, Nokia, HTC, etc, the camera quality in smartphones (especially flagship devices) has been a major selling point for these big brands.
Behold the smartphone products we regard as the best for taking product photography:
Huawei Mate10 Pro
Camera Features
12 megapixels
Dual cameras
20 megapixels black & white
Optical Image Stabilization (OIS)
27mm equivalent
f/1.6 lenses
4K video
MicroSD slot
Raw
Google Pixels 2 XL
Camera Features
12 megapixels
4um pixels
f/1.8 camera lens
Dual-pixel autofocus
Optical Image Stabilizer (OIS)
HDR+ shooting
Dual L.E.D. flash
4K video
Full HD
Dust and water resistant
Galaxy S9+
Camera Features
12 megapixels
f/1.5-2.4 lens and telephoto lens
Optical Image Stabilizer
26mm equivalent
MicroSD slot
Galaxy S8
Camera Features
12 megapixels
f/1.7 lens
Optical Image Stabilization (OIS)
26mm equivalent
MicroSD slot
HTC U11
Camera Features
12 megapixels
f/1.7 lens
Optical Image Stabilization (OIS)
26mm equivalent
MicroSD slot
4K video
Raw 
Last line
When you consider the tips and recommendations given above, taking product photographs for e-commerce should not remain exclusive to DSLRs anymore as there are now smartphones with high-quality camera features which can do the job. When buying smartphones for product photography, watch out for camera specifications such as the optical image stabilization, the megapixels, the lens, MicroSD option and the resolution, which you can combine well with photo software that will be quite helpful while creating your product photos. With these, you should never see a reason for owning a digital camera. Profession photo creation should be just a pocket away!
FREE TRIAL! TRY IT NOW
FROM CLIPPING PATH 
ASIA
SIGN UP AND GET A FREE TRIAL
Recent Post
✔ You Shoot the images for online store
We agree when you say a photo is worth a thousand words but truth be told; it's worth much more because a photo can tell all that words could tell and even much more. If what you're interested in…
✔ We Edit, Retouch and Optimize your images within 24 hours
Clippingpathasia.com recognizes that photos are indeed an immortalized version of different moments of our lives handed to us in a piece of paper or a graphic file. However, no matter how…
✔ Benefits Of Making Product Photos Background Transparent
That makes the image more focused on the desired element and so demonstrating the meaning of the picture more appropriately. Make Background Transparent…..
✔ Background Removal With Photoshop Online
While a first editor would merely detach the canvas as well as replace it, a specialist could do one thing further. He could use associate degree alteration layer or else…..
✔ Alternative to photoshop- gimp image manipulation
Just like several another area of life, the growth of technology and newest trends in the globe of photography has altered from physical to digital. In the precedent, diverse apparatuses were…..
✔ Adobe Photoshop image manipulation servicesLighting specialist, manipulate shadow to strengthen the cars lines as well as enhance its curve. The whole sight is melodic group to create the final word insight of the car. But, once the snap shoot….
✔ Getting an Unique illustrator clipping mask
At times several courses are created to disguise the unwanted portions of a picture. Diverse courses are laid out for each the picture in addition to the sketch for graphic……
✔ Mask images Could Increase affability of Products
Mainly the produce companies for their advertising purpose use these services. ad is one of the most significant aspects throughout which advertising and sales industry grow further….
✔ The Art of Digital Photo Retouching
The memories of high-quality old days are still bright in my mind, while photographs had not anything to perform with the computer. Now, photographs are captured with digital cameras…
✔ Advantages of text clipping mask Services
All you require to try as well as do is create a substitute path by persecution the pen tool to specify the popular object. Albeit, it is straight forward to execute this method, though, it's prudent…..